Origins
Castleknock Parish was constituted from Blanchardstown Parish on 9th July 1976. At that time, Castleknock Parish included the present day parishes of Laurel Lodge, Porterstown and Clonsilla. St Mochta's Porterstown was the Parish Church and the Parish Priest lived in Porterstown. With the population expanding on the city-side of the parish, additional Masses were celebrated in Castleknock College chapel. In addition, a small oratory in the centre of Castleknock Village (nowadays a betting office) was used for weekday Masses.
Church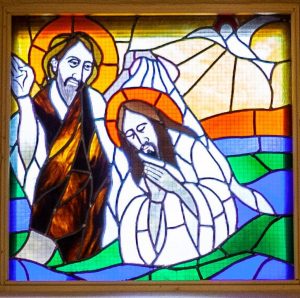 When a site was acquired for the new Parish Church, a large wooden cross was placed in position on the site on November 19th 1978. Brian Conroy from the firm Campbell, Conroy & Hickey was appointed as architect and building work began in 1980. The foundation stone for the new church came from excavations near the tomb of St. Peter in Rome. At an early stage in the construction, a decision was made to put an artist in charge of the design of the Church's interior. The renowned sculptor Imogen Stuart was chosen for the task and given responsibility for designing all the artwork for the new church. This was a rare event as very few churches in Ireland have been designed by an artist. The new church was officially opened on 17th March 1983 by the Archbishop of Dublin, the Most Reverend Dermot Ryan D.D.
Parish Centre
Work on the Parish Centre commenced in 1997 and was completed in 1998. The Centre provides many functions for the Parish community, including rooms for Parish organisations to organise and a place for parishioners to meet & socialise.
Parish Development & Renewal
In the early 1990′s, the Priests and people started a process of working together to create a renewed experience of belonging and participation in the Parish. The Parish Development and Renewal programme encourages everyone to share responsibility for the future development of the Parish community. A number of Parish Assemblies were convened to look at the needs of the Parish. The outcome of these assemblies resulted in the formation of new Parish groups to address the spiritual, liturgical, support and social needs of the community.