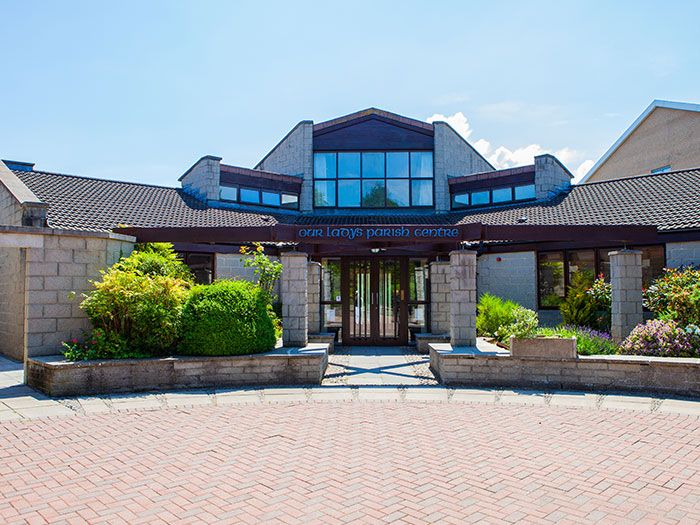 Our Lady's Parish Centre, Beechpark Lawn, Castleknock
Our Lady's Parish Centre is located next to our Parish Church. It opened in 1998 to provide the Parish community with a place to hold pastoral, educational and social activities. It is now a busy Centre with lots of activities taking place throughout the day. As well as hosting meetings for many different Parish groups, the Centre is also a venue for music lessons, karate classes, active retirement, pilates classes, art classes, drama classes, Irish dancing, the Bridge club and other activities that take place each week. Brochures with information on current activities are available at Reception.
Facilities
Our Lady's Parish Centre has a main hall and 4 meeting rooms. These are available for use by Parish and local community groups. Bookings for these rooms can be made by contacting the Parish Centre. A photocopying and laminating service is also available if needed.
Coffee Dock
The Parish Centre has a Coffee Dock, which is open Monday to Friday from 9.30am to 1pm. Tea, coffee, and freshly baked buns are available. So if you are at morning Mass or out for a walk, you are welcome to drop in for a cuppa and a chat.
Opening Times:
Open Monday to Friday, from 9.30am until 10pm.
Open Saturday and Sunday as required.
Contact Us:
Our Lady's Parish Centre,
Beechpark Lawn, Castleknock,
Dublin 15, D15 K378.
Tel: (01) 820 9907
Email: ourladysparishcentre@gmail.com
Centre Manager: Bernie Clonan